Club membership card helps business owners enhance their professional image for their clubs or organizations, make lasting impression with their members and the most important thing: increase sales!
A standard club membership cards system contains three major elements: club membership cards, card making and membership data enrollment/management and card verification. Together with magnetic stripe technology, which enhance the security of the system and the provide convenience while verifying the validation of cards.
Now with the new version of ID Card Workshop, you can easily create your own magnetic stripe club membership cards system. ID Card Workshop supports magnetic stripe id card printers for printing and use magnetic stripe readers(with keyboard interface) to reading data(such as id number etc) from cards for verification and membership record searching.
To create club membership cards, you can simply create from existing templates and then modify the design or you can create projects from existing databases such as Access(*.mdb/*.accdb), Excel(*.xls/*.xlsx) and SQL based(MS-SQL,MY-SQL etc.), or you may also create a blank project.
After the project created, use its in-built membership enrollment features to enroll new members. And then use printing feature to output the club membership cards. the software supports ID card printers, laser printers and inkjet printers for printing club membership cards.
Verify the validation of issued cards is easy in ID Card Workshop, you can use records seeker feature to find the matched records to verify the validation. This feature allows users use magnetic stripe readers(with keyboard interface) or barcode scanners to read data from barcode or magnetic stripe, or you may also simply type the id number, name to find the matched records.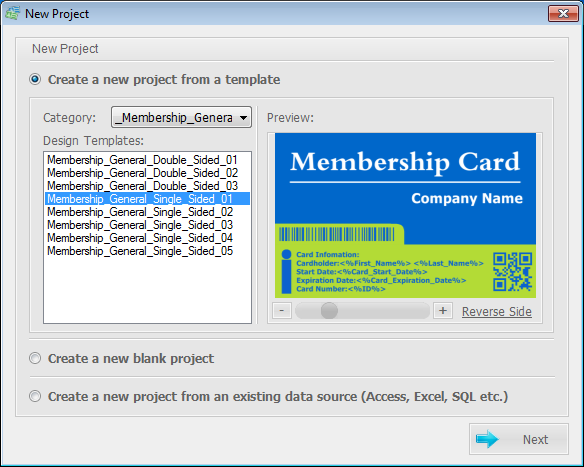 (Create A New Project)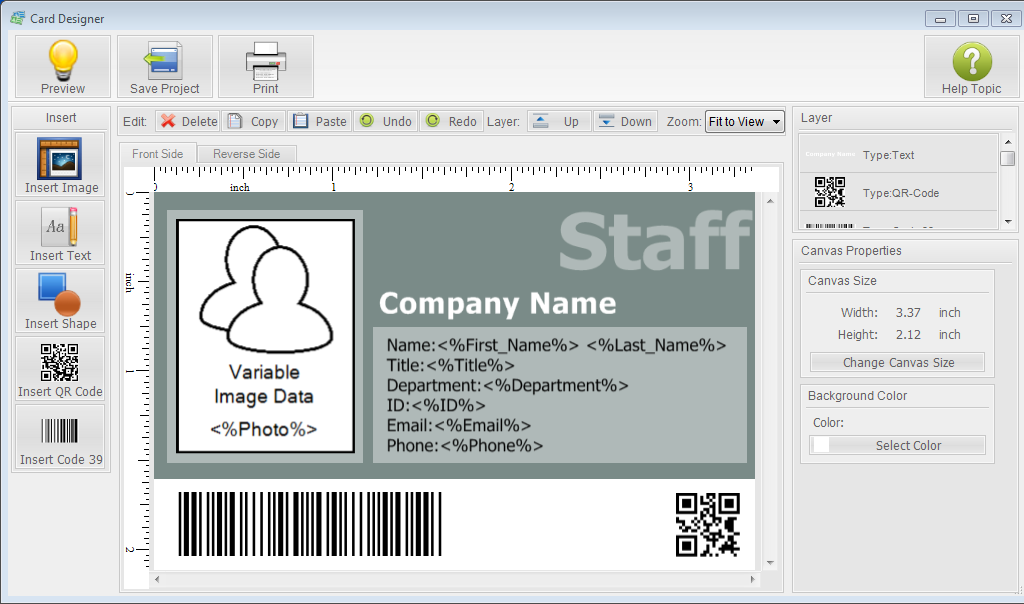 (Cards Designing Feature Of ID Card Workshop)
Main features of ID Card Workshop:
Professional ID Card Designing Feature:
The multi-layer card designer enables you to insert images, texts, 1D barcodes, 2D barcodes, vector shapes, logos and arrange them as you like. It also built-in variety of templates to help you design your own ID cards.
Variety Of Database Support:
Supports Access 2000/2003/2007/2010, Excel 2000/2003/2007/2010 and SQL based databases for membership data storage.
Powerful Membership Management Features:
The membership management features of ID Card Workshop has three major parts: Enrollment, Records Manager and Records Seeker. Enrollment has a user-friendly interface that allows you easily input membership records and take picture on-site via webcam. Records Manager enables you edit, delete or modify the specified records. Records Seeker helps you to find the specified records by searching, you can also combine with barcode scanner for on-site card verification.
ID Card Printers And Consumer-grade Laser/Inkjet Printers Support:
ID Card Workshop has two types of printing mode: ID card printer mode for ID card printers. Layout printing for laser and inkjet printers which supports Avery and Teslin ID card perforated papers that enables you to make id cards without cropping even you are using a consumer-grade laser or inkjet printer.
Built-in Variety Of ID Card Size Templates:
Built-in most common sizes for ID card making: ID-1 (3.370 x 2.125 inches, as known as CR-80 or "credit card size"), ID-2 (4.134 x 2.913 inches),ID-3 (4.921 x 3.465 inches) and CR-100( 3.88 x 2.63 inches)
Built-in Support For Webcams, Files, Digital Cameras And Scanners For Images Importing/Capturing:
Enables you to use webcams, digital cameras(Canon EOS series),files and scanners as image source to import/capture images while issuing photo id cards.
Magnetic Stripe Encoding:
ID Card Workshop has built-in magnetic stripe encoding feature which developed under the standard of ISO/IEC 7811. This feature enables you to produce magnetic stripe cards with magnetic stripe supported ID card printers.
To learn more information about ID Card Workshop and download the free trial version, visit:
http://www.IDCardWorkshop.com