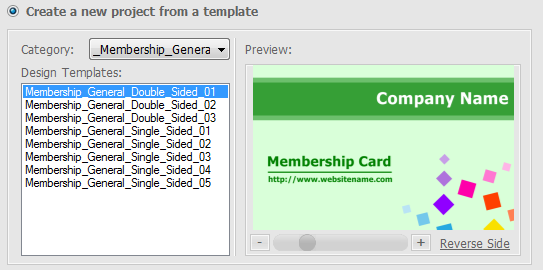 ID Card Workshop has built-in various templates for project creation.
Category: Select a category of templates
Design Templates: Select a template in the "Design Template" List, the instant preview of the selected template will be displayed in the right side of the window.
After you found a template which you would like to use it for the new project creation and to confirm the selection, Simply Click on OK button. And then a "enter the new project name" window will show-up, enter the name of the new project, and click OK.

And that is, ID Card Workshop will generate a new project based on your selected template and it will create design, database automatically. you can edit this new project with 'Card Designer' or 'Records Manager' or issue cards with 'Card Issuing Center' and backup, clone, delete projects with 'Project Manager'